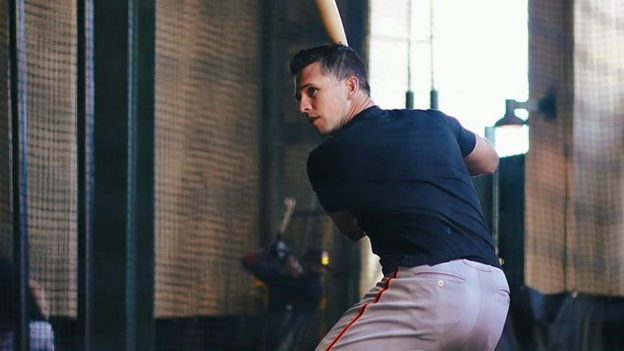 When players report to Spring Training next year, one famous catcher won't be among them. Larry Baer, President and CEO of the San Francisco Giants, was enjoying a trip to the East Coast to visit family when an old and familiar face showed up on his telephone. Why was Buster Posey giving him a call, particularly after such a successful season?  Baer admits that there was a moment of panic as he wondered why he was getting a call, but then it all became clear.
Legendary Partnership Comes to an End
In a sporting world brimming with massive egos, Buster Posey was a superstar that ushered in a breath of fresh air. Quiet and composed, Posey became a legend in the Bay Area thanks to his command of the strike zone both at the plate and behind it.
Posey was drafted out of Florida State University when he was selected fifth overall by the Giants in the 2008 MLB Draft. Less than two years later, Posey would help Larry Baer and the Giants bring home their first World Series title in almost 50 years. In 2012, Buster Posey would secure the 2012 NL MVP while leading the Giants to another World Series title. A third championship would follow in 2014.
Prior to the 2020 – '21 season, Posey made waves when he predicted a deep postseason run for the underwhelming Giants. Bat in hand, Posey would will his prediction into existence while collecting his second Comeback Player of the Year Award.
Despite the career resurgence that Posey enjoyed in 2021, a serious phone call to Larry Baer would put everything into perspective. Larry Baer says of the phone call, "I actually didn't think of the R-word: retirement."
Understanding who Buster Posey is as a person allowed Baer to take the hard news in good stride. Baer says, "This is a decision that he thought a lot about, he talked earlier about tinkering with the decision (throughout the year)."
Baer goes on to say of his long-time colleague, "All you have to do is throw your arms around him and give him a Buster hug." Baer would go on to add, "I don't think he'll miss landing in Milwaukee at 4 in the morning."
When asked about leaving the game after such a remarkable season, both Baer and Posey were on the same page. Posey said, "Playing the way I did, didn't sway me. That's part of the reason I DO feel at peace with my decision."
Looking Back on the Career of Larry Baer
When Larry Baer first joined the San Francisco Giants in 1992 as Executive Vice President, he truly had no idea what his career would bring.  At the time, the Giants had been bereft of a World Series win for almost 50 years. As a fourth-generation San Franciscan, Larry Baer knows how important his work is to the people of the Bay Area. Under Baer's guidance, and with the eventual support of superstars like Buster Posey, the Giants would go on to secure three World Series titles.
With Buster Posey retiring, Baer knows that he has his work cut out for him as he seeks to continue the success of the San Francisco Giants. Baer says of his decision not to try and convince Posey to stay another year, "You have too much respect for him as a person. This is a decision that he thought a lot about."
See more on the incredible SF Giants season with Larry Baer: https://www.youtube.com/watch?v=6Zv63FtFDLQ