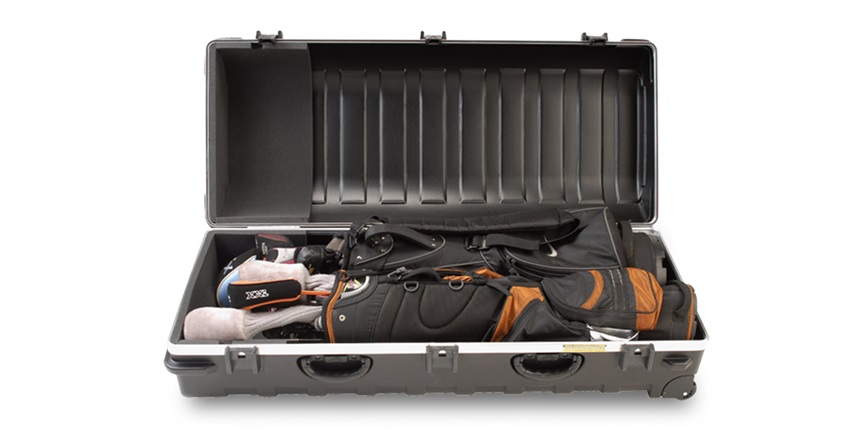 A golf travel bag is a very critical piece for any gofler who spends a lot of time travelling for golf games. It gives you the benefit of having your own golf clubs during your play. You must be aware that it can get tricky to travel with your golf clubs as safety and manoeuvrability of your golf clubs becomes top priority.
Below are the factors you must consider before deciding to purchase the best travel golf bag:
Durability:
A good golf travel bag has to able to withstand the punishment of being thrown into compartments and riding along the conveyor belts of airports which involves regular wear and tear of the bags.
Golfers will need to opt from two choice, soft or hard case travel bags. A soft case will be much lighter but do not provide much protection. On the other hand, a hard caseprovides a lot of protection to your golf clubs but weigh a lot.
We would say that if you travel a lot by car for your golf game, you can opt for soft cases. If you do travel by air, you must opt for a hard case.
Materials
Soft cases are typically made from nylon or polyester and hard cases are made from high impact plastic.
A soft case should do the job of covering the clubs well to keep out dirt and debris. A hard case must be able to withstand impact it may encounter from the harsh and crude travel it may face.
Knowing the materials are important as it helps you to take the right decision before your purchase.
Storage
A very crucial factor is storage that will help you decide how much of storage it can offer to store our clubs, balls and other accessories.
Most golf travel bags will have exterior pockets for plenty of room for your rain gear and footwear, but some bags, in particular, hard shell cases, won't have any additional storage.
When looking for the best travel bag for your game, always account for the storage capabilities because it will undoubtedly save you a lot of headaches when you're ready to pack.
Casing
If golf trips is a one-off situation, a soft cover may be just the thing you should opt for. On the contrary, if you are traveling to a new course every weekend, you will likely want the extra protection a hard case provides.
We have tried to answer a few of your general questions that consumers may ask before their purchase:
Hard or a soft case?
The difference between choosing a soft cover or hard case is primarily dependent on how you travel.
Are travel bags water-resistant?
There are not many water-resistant golf travel bags on the market. Since their primary function is to give your bag protection during travel, there won't be too many opportunities where your golf travel bag is exposed to moisture.
How can I make sure that the golf bag I buy will be durable and will have sufficient padding for my clubs?
The best way to assure that your clubs will get maximum protection is by using a hard-shell case when transporting.
What's a recommended bag weight?
Soft cover bags typically weigh around 8-10 pounds with hard shell cases weighing anywhere from 12-20 pounds.
Steve Bennett is a golf enthusiast. Golf has always been his passion and ever since he can remember. He is in love with this sport and writes at Unique Golf Gears to help others improve their game.