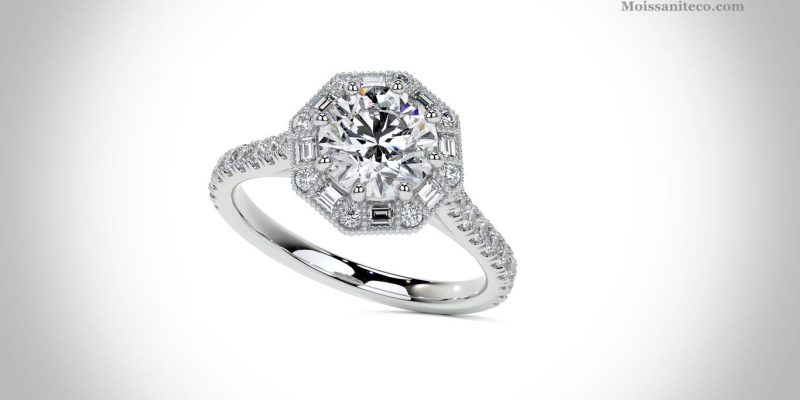 One of the greatest pleasures of being an artist is being able to share your work with the rest of the world.
Because jewelry can become particularly sentimental to its wearers, this is something that jewelry designers are particularly aware of.
Starting a jewelry business is the most effective way to get your work in front of as many people as possible and forge new relationships with grateful customers.
So, here we are explaining effective strategies for a successful jewelry business.
MoissaniteCo – A Practical Success Story
Mike and Jera Christensen founded MoissaniteCo in 2005, and the company has since grown to become a global leader in the sale of moissanite stones and jewelry for over a decade.
Mike is a fourth-generation jeweler from Las Vegas, Nevada, where his great-grandfather opened his first business on Fremont Street more than 80 years ago, according to his family.
It is a top goal for the company to sell only the highest-quality Moissanite gemstones available.
Because most Moissanite stones do not come with a third-party lab certification, it is critical to acquire Moissanite from professionals who are knowledgeable about how to distinguish between good and bad Moissanite.
The following are some of the effective strategies by MoissaniteCo, that helped them to reach maximum potential:
Define Your Mission Statement and Business Goals
Mission statement! This may appear to be a complete waste of time, yet it is not at all. The goal of your company is something that explains the entire purpose of your company, as well as what is absolutely vital to you and what you are willing to compromise on.
Before you start your business, decide on your priorities and write them down in a few lines to remember them later.
Learn from your competitors
It's a good idea to conduct some preliminary market research during this pre-launch period. Observe the following examples of other successful jewelry businesses that you appreciate and would like to replicate in some way:
What is their point of view, and why is it effective? What is their target audience, and what marketing strategy do they employ?
In what ways and where do they sell their products – do they rely only on their website or another selling platform (such as eBay or Amazon), or do they also sell their products in brick and mortar stores?
Market Your Business Online
Create an online presence for your jewelry business and begin selling your jewelry items to clients all over the world through your website.
If you want to build your own website, you'll need to register with online local business directories and platforms such as Google Places first.
The Bottom Line
Start your jewelry business with caution and a well-thought-out business strategy. Take steps to ensure that your company is visible to the intended audience.
Create a distinctive logo to help your company stand out in a crowded market. Create a strong social media presence by publishing both text and picture material on a variety of social media platforms.
Have enough cash on hand to satisfy any immediate needs until your company is able to stand on its own two feet.
All these strategies helped MoissaniteCo to reach its maximum potential.