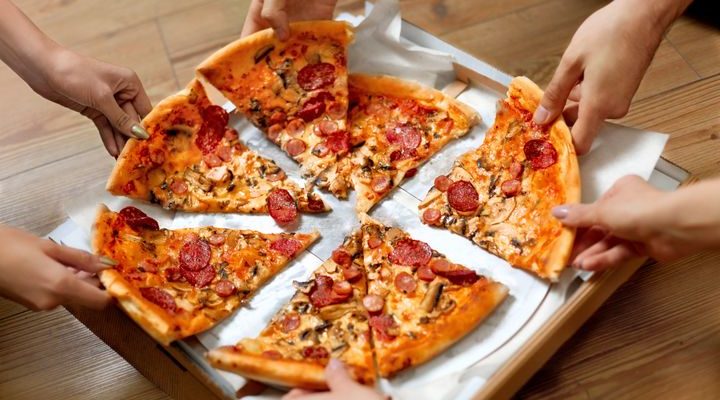 Pizza is a universally loved food that can be customized with various toppings. From classic favorites to creative combinations, there's a pizza topping for every taste bud. This post will explore the most popular pizza toppings and offer creative and unusual ideas to spice up your next pizza order.
Pepperoni
Pepperoni is one of the most loved pizza toppings in pizza restaurants worldwide. This cured sausage adds a spicy and savory flavor to the pizza and can be found in most pizza restaurants. For a twist on the classic, try adding thinly sliced jalapenos or chili flakes to add some heat.
Mushrooms
Mushrooms are another popular pizza topping that adds a unique and earthy flavor to the pizza. They also provide a meaty texture for vegetarians and can be used instead of meat toppings. Try adding truffle oil or roasted garlic to the mushroom topping for a gourmet touch.
Olives
Olives are a classic topping that adds a briny and salty flavor to the pizza. Black and green olives can be used as a standalone topping or combined with other toppings like onions and peppers. Add feta cheese and sun-dried tomatoes to the olive topping for a Mediterranean-inspired pizza.
Sausage
Sausage is a versatile topping in different pizza varieties, such as Italian, spicy, or chicken sausage. It adds a savory and flavorful punch to the pizza and pairs well with vegetables like peppers and onions. Try adding sliced apples or pears to the sausage topping for a unique twist.
Cheese
Cheese is essential to any pizza, and mozzarella is the most popular choice. However, many different types of cheese can be used as toppings, such as cheddar, provolone, or blue cheese. Try adding goat or ricotta cheese to the pizza for a gourmet touch.
Vegetables
Vegetables are a healthy and tasty topping option for pizza, and popular choices include onions, peppers, tomatoes, and spinach. Add artichoke hearts, eggplant, or roasted red peppers to the vegetable topping for a more exotic twist.
Meat
Meat toppings add a hearty and satisfying flavor to the pizza. In addition to pepperoni and sausage, other popular meat toppings include bacon, ham, and chicken. Try adding pulled pork or meatballs to the pizza for a more unconventional meat topping.
Creative and Unusual Toppings
There are many creative and unusual toppings for those who want to take their pizza to the next level. Some examples include:
BBQ sauce and chicken
Pineapple and ham (known as Hawaiian pizza)
Shrimp and pesto
Goat cheese and figs
Cauliflower and buffalo sauce (for a low-carb option)
Tuna and onions
Conclusion
Pizza toppings are a great way to personalize and customize your pizza order. From classic favorites like pepperoni and mushrooms to creative combinations like goat cheese and figs, there's a pizza topping for every taste. So the next time you order pizza, don't be afraid to mix and match and try something new! When choosing a pizza restaurant, look for a restaurant that offers good value for your money, considering factors like portion size, quality of ingredients, and overall dining experience.