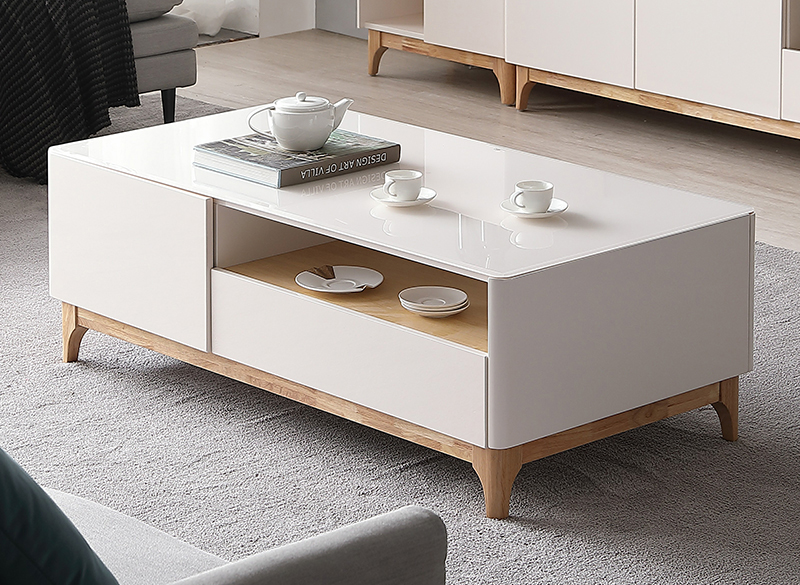 There are a few pieces of furniture that every living room needs. A sofa, a love seat or armchair, typically a television and stand, and a coffee table. 
While a living room without a television still feels like a complete room, a sofa without a coffee table usually makes a room feel sparse and unwelcoming. Inviting guests over for tea and snacks seems a little awkward when they are balancing their plate in one hand and their cup in the other!
Since most would agree that a coffee table is a bit of a necessity, finding the perfect style to pair with the rest of your room is vital. There is no such thing as the "best" coffee table style, but there is definitely the best for your room! The wrong table can change your entire vibe.
How to Select the Perfect Coffee Table
There are as many styles of coffee table as there are house plans. Finding the right one depends on some important factors- How the room is used, How often the room is used, and other design elements in the room. 
How is the Room Used?
Is this coffee table for your living room where you entertain guests? Or is it for a family den where its primary purpose is family game night? Thinking about these factors can help you decide what size and style you need.
 If you are looking for a family room, a larger table, perhaps even square, will be most appropriate, so you have plenty of room for that Friday night round of Risk to spread out. You may want a table with storage underneath for games or books.
 If you are decorating a living room that is primarily for entertaining guests, for example, you might need a smaller table, that provides a place for a beverage or a vase of flowers, but that is small enough to not dominate the room or make sitting less comfortable. 
Areas that need to be versatile may need furniture that can convert forms for different purposes- nesting tables that allow you to spread out when needed, and compress to get out of the way, for example. A minimalist style table may provide the flexibility to fit in with many different looks.
How Frequently is the Room Used?
If a room is seldom used, you can focus on the design aesthetic, at the cost of durability. You may have decorative elements that wouldn't hold up to excessive use. Some materials wear better than others in the long term. If a room is to be used regularly, especially by families with children, seek out more durable materials, like solid hardwoods, tubular steel, or formed plastics. 
What other Design Elements are in the Room?
With any furniture purchase, you should think about what items in the room you want to be the focal point. If you have a very bold choice of sofa or an interesting accent chair, you may want your coffee table to be more subtle so it isn't competing. If you have a bright and interesting rug, you may want a glass table that allows more of that beautiful rug to show through.
Also, consider the overall design aesthetic of the room. If every other piece in the room is Danish Modern, a traditional table will probably look out of place. If you are going for an overall eclectic style, you may want your table to match with another piece of furniture to provide some design symmetry, or you may prefer that it be something totally different to avoid throwing off your eclectic vibe. 
The most important thing when considering the design elements of your coffee table is that you do consider it. Think about how it will fit with your room. Is it going to clash or mesh with the rest of your space? Think through all of this, and you can find the best style of coffee table for your home!